Food in Autumn Retreat 2011 – Florence Price
Dear All, I am writing to share my experience of the exquisite food we had in this year's Okido Yoga Autumn Retreat in Suffolk. All the meals were satisfying, nourishing, light, and of outstanding quality. I enjoyed the variety of different styles of cooking that each of the teachers brought to the occasion. On Saturday we went on our long hike and took with us a surprise packed lunch. The dessert tart was outrageous, many asking for the recipe while digging for seconds! The bento box was my favourite, though, with delicious tempura, hijiki seaweed (tasty, tasty!), pressed salad and the best rice balls I ever had. I especially enjoyed being cooked for for these 3 days as I do a lot of cooking for my work and at home. The whole weekend was a refreshing, energizing and all-round magical experience.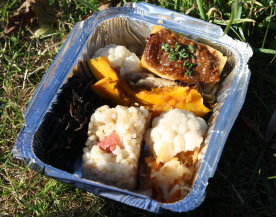 Bento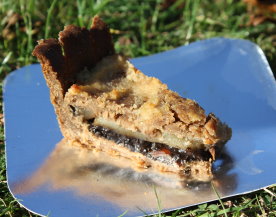 Pear, Carob & Chestnut Tart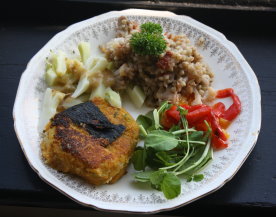 Main Dish of a Meal
Here is the recipe of the outrageous Pear, Carob & Chestnut Tart – Junko Maria Furugori
The inspiration for this dessert was the lovely Italian organic chestnut flour I had in my cupboard, given to me by a friend. I was originally going to make a traditional Tuscan dessert called Castagnaccio but decided a fruit tart would be best given the season and the abundance of apples and pears. So, I hunted for a suitable recipe using chestnut flour and found one on an Italian website that I could adapt. Of course, the original version had chocolate instead of carob and lots and lots of extra virgin olive oil but this version is still rich with plenty of natural sweetness. You can taste the distinctive flavour of the chestnut flour, which is almost smoky, marrying the delicious carob and pear. It's a perfect dessert for the colder months when our bodies and minds tend to want more warmth and richness. Chestnut flour is a bit of a luxury (but worth every penny if you ask me!) so it's ideal as a Christmas treat.
Ingredients (organic as possible)
Serves 10-12
For the pastry
80ml oat milk
60ml cold-pressed sesame oil (untoasted)
3 tbsp grain syrup
270g chestnut flour
a pinch of salt
For the filling:
200g ripe pears, peeled, cored and sliced
Carob sauce:
30g dried dates, chopped
10g raisins
2 heaped tbsp carob powder
120ml water
1½ tbsp light tahini
½ cinnamon stick (3-4 cm length)
¼ tsp vanilla essence
Preparation
In a bowl, whisk the oil, oat milk and syrup well.
Sieve the flour and salt into the mixture.
Combine well with a wooden spoon or by hand until it forms stiff dough. NB No kneading required!
Cover the dough and leave to rest for an hour in a cool place or the fridge.
Preheat the oven to 180ºC.
Prepare the carob sauce: cook the fruit with the water, cinnamon stick and carob powder over a low heat until it's a soft, thick pulp (20-25 mins). Remove the cinnamon stick. Add the tahini and vanilla essence. Blend till smooth with a hand-held blender. NB It should be thick enough to spread. Leave to cool.
Line a tart tin with a thick base (a tarte tatin tin works well) with 4/5 of the dough. Prick the base all over with a fork. NB Chestnut flour is gluten-free so it will not be possible to roll out as 'normal' pastry. It's best to roll as possible, transfer and then press down with the hands, working up the sides of the tin.
Spread the carob sauce over the base. Arrange the pear slices to cover.
Roll out the rest of the pastry and cut into strips. Arrange over the pear to form a lattice crust. Note: this is quite tricky and requires patience, good humour and a palette knife!
Bake for 25-35 minutes. If baking in a conventional oven (i.e. not fan assisted), then place in the lower part to ensure the base cooks well.
Serve after it's cooled and enjoy!