On 8th November 2020 (Oki-sensei's 101st birthday), at the site of Oki Yoga Shūdōjō, Mishima, Japan, was held a ceremony to unveil the stone monument. After that, a gathering party was held at Mishima Plaza Hotel. About 40-50 people attended both or either events. The project team sent me some photos and I share these here with you. Many people gave speeches for remembrance and celebration. As it was too far for me to travel and attend it, I do not know any more details. However, I was asked to send a message for the event. So I translate it into English and share it below, after showing you the photos. Many thanks for the photos to Hiroko Yoneyama and Shu Takeda.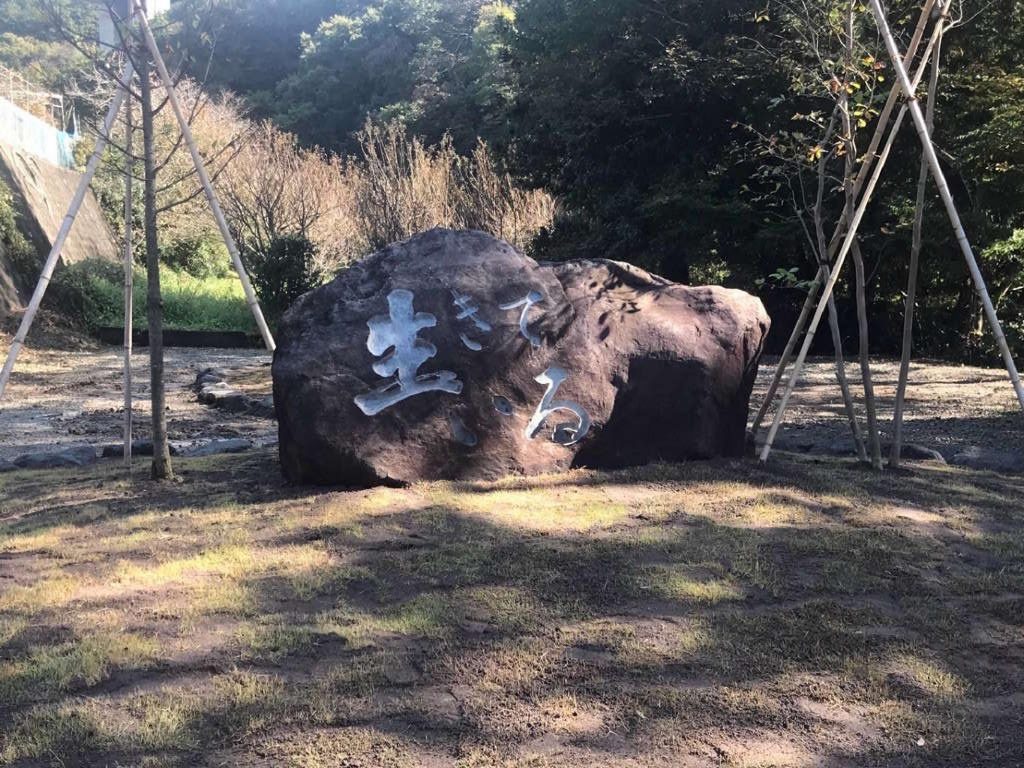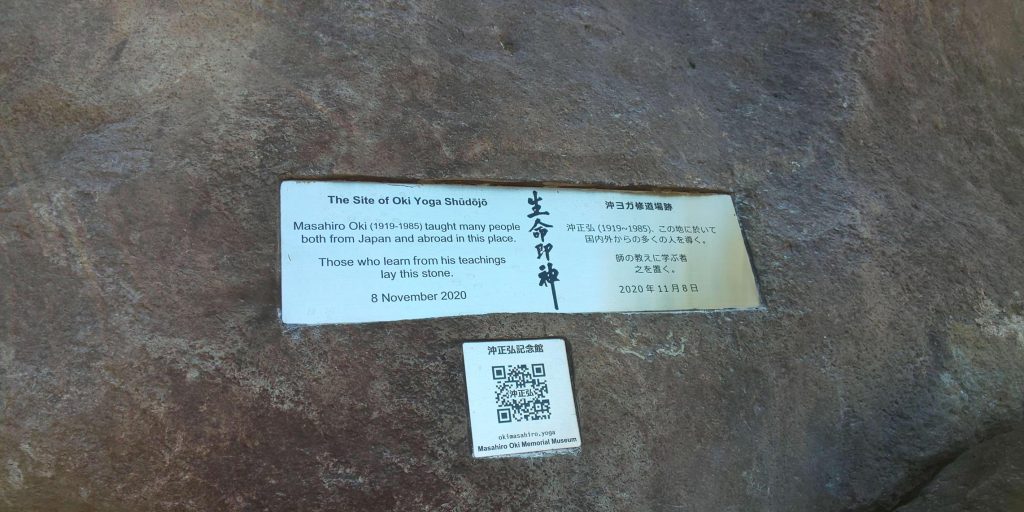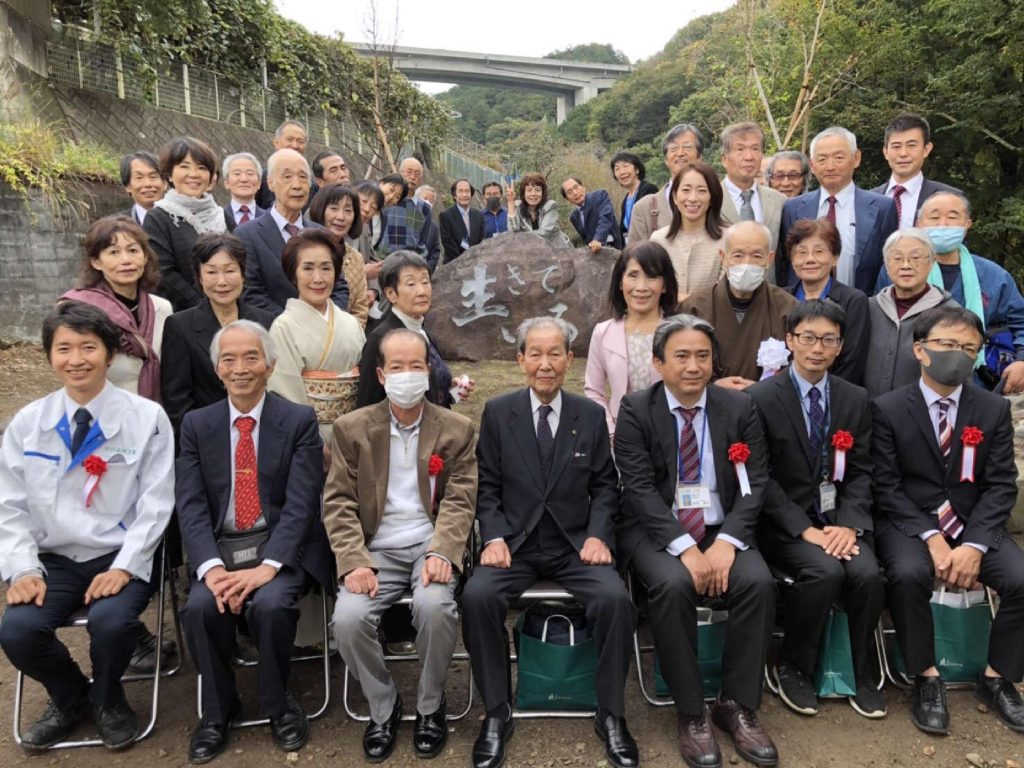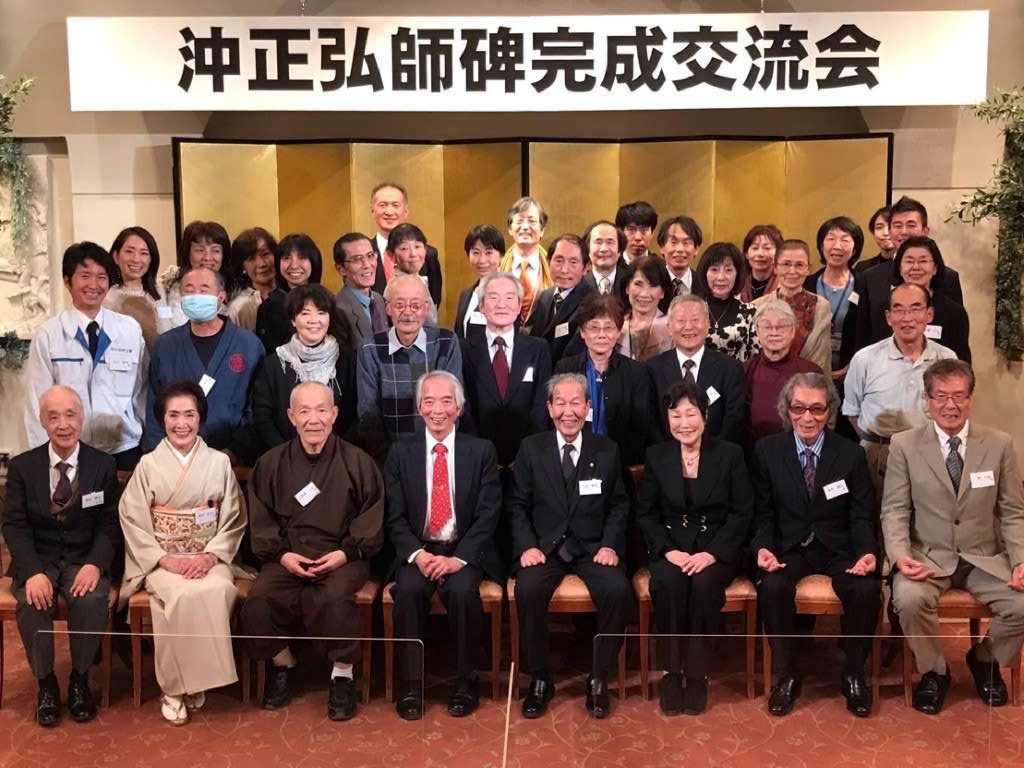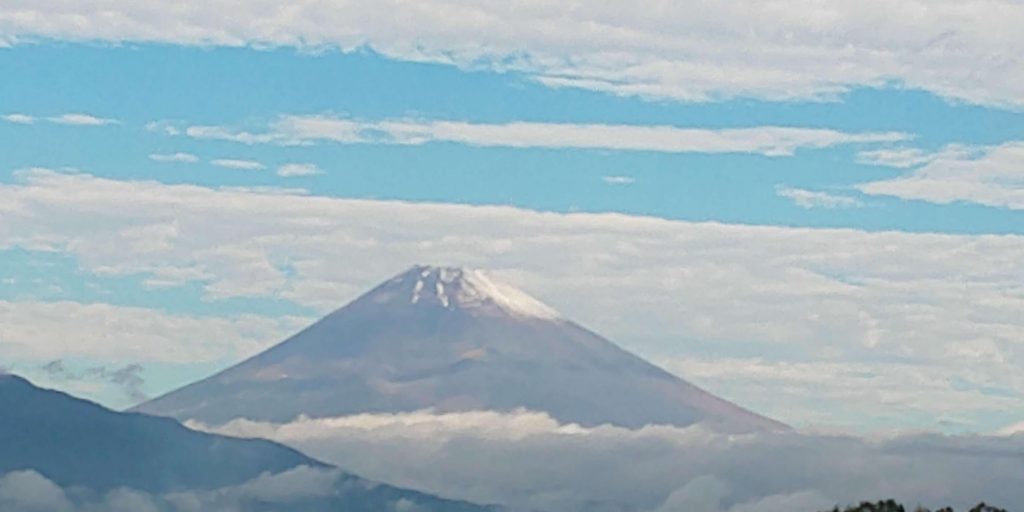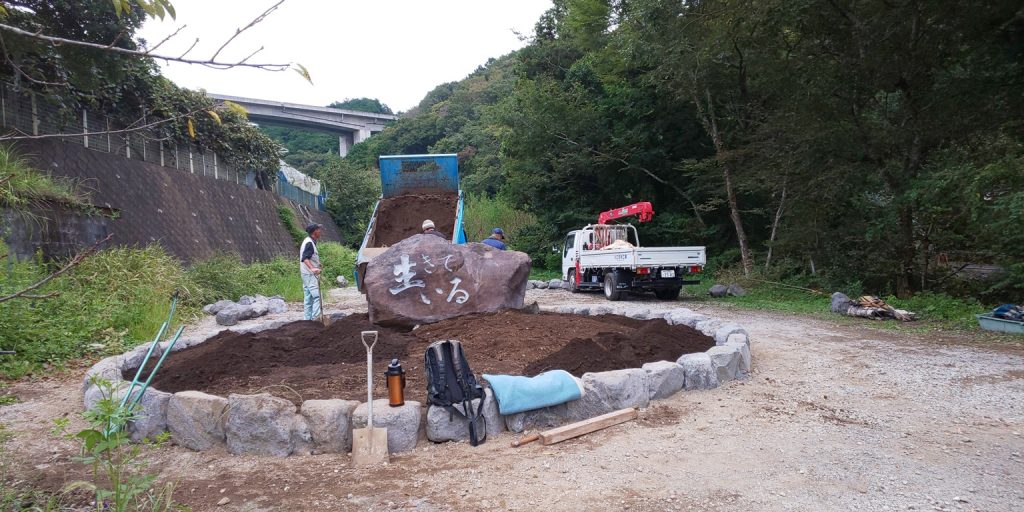 Tomoko's message sent for the event : Many congratulations on completion of the stone monument at the site of Oki Yoga Shūdōjō. When you start this unveiling ceremony at 1 pm in Japan, it is 4 am in the UK. As thinking of your today's joy, I would like to attend the celebration ceremony in my imagination.
I studied in the residential training under Oki-sensei in Mishima Dojo from 1980 till 1984. Then according to his instruction, I came over to the UK and have been engaged in the activity of Okido Yoga. I experienced many difficulties on those days I spent in Mishima-Dojo, but I feel they are treasure in my life.
Since I left the dojo in 1984, I have visited this place twice, and at the time of my last visit in 2014, the dojo building existed no longer, but listening to the same sound of the stream running just as in the past days reminded me of my training days.
Everyone was learning and working hard on the eternal subjects of human beings: searching for truth and co-living happily. In other words, everyone was seeking a way of life to develop him/herself best as well as share, love, cooperate with each other. Oki-sensei provided the place and time for us to be able to learn towards it. I am really grateful for that blessing destiny to have been able to learn under his care.
I think this is a feeling commonly shared by all the people who came to his dojo from all over the world, seeking his teachings.
Regarding the project of this stone monument, I had opportunities to attend a couple of online meetings. I was impressed by the fact that the project team members were seriously tackling subjects given at a time and working together to find the best possible solutions in that given situation, including facing all small disagreements. I feel that this kind of our connection started when each individual of us came to Oki-seisei's Dojo, has been supported by his teachings, and will be able to continue when we parctise his teachings as living teachings.
As the inscription says, "Those who learn from his teachings lay this stone", anyone who heartily learns from Oki-sensei's teachings can keep laying the stone in his/her heart. It will remind us of the origin and principles of Okido Yoga. And we can practise as well as talk about his teachings as living teachings. May this stone monument keep sending such a message from this place to elsewhere in the world!
Finally, I would like to thank people who protected this place after Oki-sensei had passed away in 1985, by continuing the activities for some years, or, even after those activities had ceased, by practically looking after the building and site for a long time. I would like to thank Mishima City for helping this place, the home of those who learn from Okido Yoga, be reborn as a beautiful green space in the village. Also, I thank all the volunteers for their enormous efforts into various practical tasks for this project in the Okido-Yoga-like spirit of service.