What I love about Okido Yoga is that classes and retreats are never the same. There is always something new or fresh for me to learn. The Autumn Retreat at the end of October was no exception. I took the train to Rickmansworth (near the Loudwater retreat venue) rather than driving. From where I live, the train takes longer, but I find it preferable to driving; less strain on mind and body, plus time for either thinking or reading. It's time in which I let go of my daily life and transition to "retreat". I also like to think the train has less impact on the environment….correct me if I'm wrong! Moreover, a train ride always imparts in me a sense of adventure. You never know whether you will be on time, who you might meet or what challenges you might come up against along the way.
No more about trains, this is about the retreat, although, for me, the retreat begins as I leave my front door. It was a grey afternoon when I arrived at Loudwater. Our accommodation was comfortable and the room I shared with two others was spacious. Our first evening began with a pasta stew: warming and comforting, lifting the grey of the day from my mind. I always love to hear how others have come to be taking part in the retreat. Then followed sharing a ginger compress. As I find ginger too stimulating in the evening, I opted for a hot chamomile compress which relaxed me wonderfully, leaving me ready for sleep.
Our morning exercises, with stretches and then sounding combined with movement, was followed by a walk in the brisk early morning light, during which the rain just held back.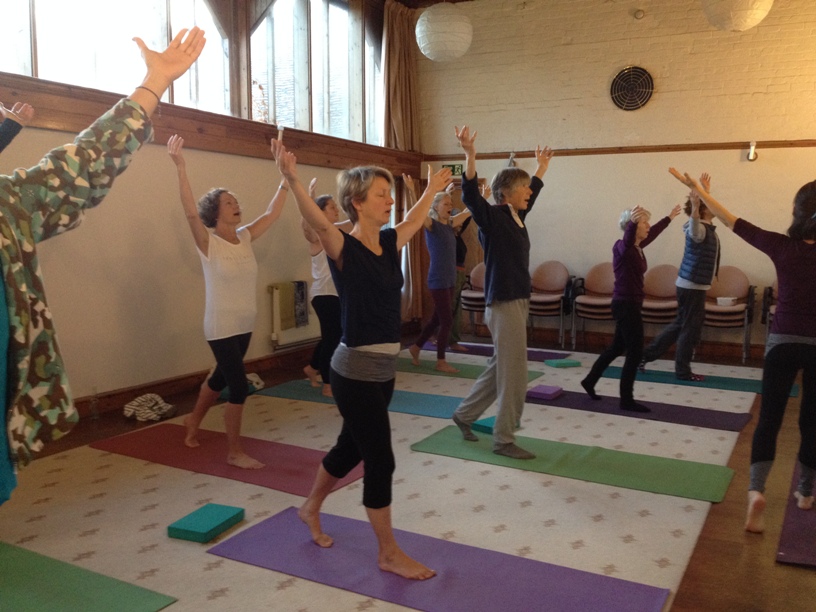 After breakfast, more stretches, movement and asanas. Then Tomoko's partner exercises introduced a sense of fun with challenges of mutual trust in our partner. We rang the changes, swapping partners until we'd all worked with each other.
Meals during the retreat are always carefully thought out by the rotating yoga/cooks, and the nurturing qualities of each dish were much appreciated, especially the desserts! Our lunch was no exception and afterwards I sat, feeling content to be part of this group with its array of personalities, all enjoying being together.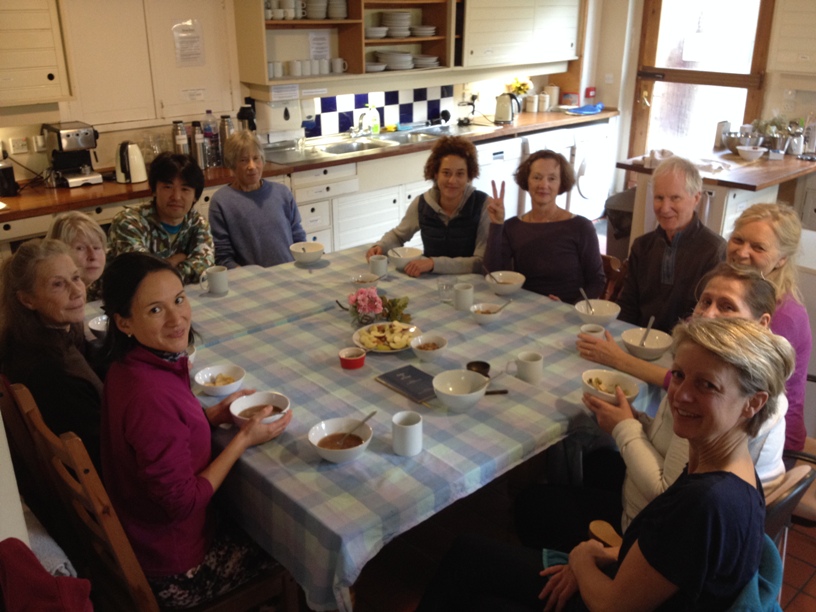 Following lunch there was a little time for reflection before sharing a ginger compress. As this was earlier in the day, I enjoyed the full benefit of the ginger; relaxing and also, for me, stimulating. A period of silence followed, an aspect of the retreat that I find very important. This led brilliantly into Junko's session of asanas (some challenging, many straightforward) and shared silent meditation.
A mystery event followed supper. We sat for a while in contemplation/meditation before taking a large piece of art paper and re-creating our feeling of the weekend. Everyone worked quietly with focus, although silence had not been requested. Autumn leaves of all colours spiralled around in the wind outside; these came into my picture, carpeting a glimpsed forest floor on which sat "figures" in meditation. I also wrote a poem:
Glide, shuffle, lurch; Fragile, overworked ; Long to slouch; Breathe deep, feeling liverish; Hot, nauseous; Pain in back niggles; Chamomile soothes; Bowels don't move; Limbs do; body does; Brilliant new vibrant exercises; Bring to walking; In sunshine imagined; River swift, leaves fall; Wind, rain, autumn; Peace
It was change of the clocks weekend, so we achieved a "lie-in", getting up at 6am (7am in old time) for early exercises and then out for a walk in the crisp, frosty morning. Our early rise allowed us time to walk further and soak up the bright, sharp day; bliss. Even the horses in the nearby field stopped their grass-munching to face the pale sun as it lifted slowly over the hill.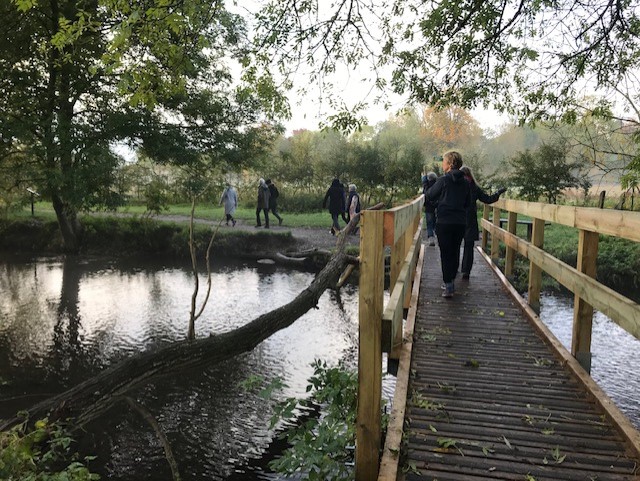 The sun graced us all day, lighting up the dining room and the grounds leading down to the river beyond. By the time the morning was over I felt stretched and open; relaxed, yet alert; ready, yet calm. We had time before lunch to wander and meditate a little in the grounds in which a magnificent old ash tree assumes command, the river on the boundary full and rushing over itself. Ah, here is Loudwater!
We lunched well. Our final class focused on breathing exercises, and Michael skillfully introduced the group to new yet ancient techniques to clear the head and focus the mind and body. Ready, finally to face the outside world, beyond Loudwater.